SHIPPING AND REFUND POLICIES
Due to COVID-19 all transit times are estimated & all delivery guarantees are suspended indefinitely and packages may experience shipping delays. Order cut off times: FedEx 7.10pm, UPS 3.10pm & USPS 1.20pm EST
We only ship weekdays. No shipping is available on weekends. If you place your order AFTER 7.10PM EST by choosing FedEx, AFTER 3.10PM EST choosing UPS or AFTER 1.20PM EST choosing USPS, expect your order to ship the following business day. If you order after these aforementioned times on a Friday with either FedEx, UPS or USPS, your order will be shipped on a Monday.

The day we ship your package does not count as a shipping day. All packages usually go out the same day if received before the carrier specific cut off time EST Monday-Friday but if you choose the Priority Mail service or the free shipping options it is possible that your package will ship the following business day.

If you choose the Standard Mail (USPS) service, UPS 3 Day Select or the free shipping (which ships USPS Standard) options, please be aware that these are the slowest shipping services available and are not guaranteed delivery services. The transit time is given as an indication only and does not mean you will receive your parcel on the specified day. Depending on your location the average delivery time for Priority Mail services is 2-5 days which means you don't count Sundays or holidays.

All PO BOX addresses must use a USPS Mail service.

Orders cannot be shipped to APO/FPO/DPO addresses.

Once your order is in 'packaged status' if you cancel your order you will be charged a 15% restocking fee.
FedEx Shipping
All FedEx Overnight and 2Day packages require a delivery confirmation if no one is home at the time of delivery the item will be carded for pick up at your local FedEx office.

All FedEx OVERNIGHT orders received after 7.10pm EST Monday to Friday will ship the following business day. Saturday and Sunday are not considered shipping days for the purpose of transit. FedEx will only deliver on business days during the week Monday through Friday.

All FedEx Overnight and 2Day packages require a signature upon delivery, packages cannot be left at the door should no-one be available to sign for it at the time of delivery No shipping refunds will be given for delays resulting from adverse weather conditions or other delays beyond FedEx's control. Therefore there is always a slight risk that you may not receive your parcel on time. Depending on the reason for such a delay, you may or may not get your shipping fee refunded, it all depends if the late delivery is covered under FedEx's on time delivery guarantee.

If you are not able to receive your package for whatever reason and will not be available to sign for it at the shipping address you provided, you can choose to pick it up at your nearest Fedex Office instead. Please check on the Fedex.Com for the address of your closest Fedex office and use this address as your shipping address.
USA shipping options
USPS Standard 1-5 business days not guaranteed. No Sunday delivery or holidays. (Cut off time 1.20pm EST)

FREE US SHIPPING OFFER All orders over $135 (before shipping & tax) are eligible for FREE STANDARD SHIPPING (estimated 1-5 business days but not guaranteed)

USPS Express Mail guaranteed in 1-3 days, including Saturdays. No delivery Sunday's or holidays. (Cut off time 1.20pm EST)

UPS 3Day Select 3 business days. Monday - Friday. Not guaranteed. (Cut off time 3.10pm EST)

FedEx Express Saver 1-3 business days. (Cut off time 7.10pm EST)

FedEx Expedited 2 business days. Indirect signature required (Cut off time 7.10pm EST)

FedEx Overnight 1 business day. Indirect signature required. (Cut off time 7.10pm EST)

*No delivery on weekends or holidays (signature is required upon delivery for Fedex Overnight and 2Day orders)
Canadian shipping options
USPS Priority International (6-10 days not guaranteed)

USPS Express Mail International (3-10 days not guaranteed)

USPS First Class Package International Service (1-2 weeks)

*No delivery on Sundays or holidays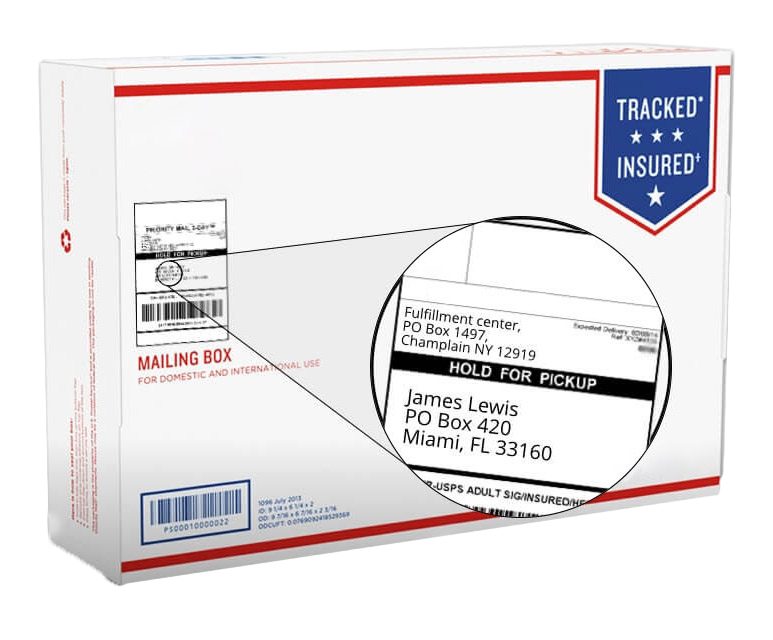 Please Note:
All orders are shipped in plain, unmarked packages. Nowhere on the package does our logo or our company name appear and there is no way for anyone to know what is on the inside when shipping within the USA. All international orders will require custom documents.

*We ship from New York state USA.
SHIPPING DURING HOLIDAYS
FedEx observes a number of Federal Holidays and therefore shipments processed or in transit during those holidays may incur a delay. Please be sure to call to confirm the delivery time when placing orders before or during holidays. No shipping refunds will be granted if delivery was delayed during a holiday period.

ACTS OF GOD
Deliveries delayed due to Acts of God, weather conditions, environmental or dangerous goods incidents, perils of the air, public enemies, public authorities acting with actual or apparent authority, application of security regulations imposed by a government or otherwise applicable to the shipment, acts or omissions of customs officials authority of law, quarantine, riots, strikes, work stoppages or slowdowns, or other labor disputes or disturbances, civil commotions or hazards incident to a state of war, local or national disruptions in ground or air transportation networks or systems due to events beyond FEDEX/USPS' control, disruption or failure of communication and information systems, disruption or failure of utilities, or any circumstances beyond shipper's control will not be granted any shipping (full or partial) refunds.
INTERNATIONAL ORDERS
It is always the responsibility of the purchaser to ensure that they have the necessary paperwork to allow importation to their respective country. While we cannot be held responsible for any kind of customs issues we will do our best to work with customs by providing them with the necessary paperwork.
IMPORTANT NOTE TO INTERNATIONAL CUSTOMERS (including Canadians): If your transaction gets DECLINED for no reason it is highly possible that it is due to an international block set by your credit card issuer which preventing you from making a purchase from outside of your home country. To temporarily lift this block you'll need to contact your credit card issuer by dialing the phone number found on the back of your card and letting them know you would like to place an order with "Clear Choice" or "Groovy Light" if its an AMEX card, located in the USA. Once done, you'll need to return to your cart and resubmit your order.
RETURNS POLICY
As of March 21st, 2017, all product sales are final. Products may not be returned for a refund; only exchanges may be possible, please see below for information on our Exchange Policy. If you do not agree with any of the above, please do not proceed with your order.
DAMAGED IN TRANSIT POLICY
Please note that using express shipping methods, such as USPS Priority Mail Express, FedEx 2Day and FedEx Priority Overnight may cause leaking or spilling in Detox Drinks, if any of these methods are used TestNegative.Com is not liable for partial or full leaks of the drinks.
EXCHANGE POLICY
Product exchanges will be accepted within 30 days of receipt of your package. Anything over 30 days automatically becomes non-exchangeable. The customer is responsible for all shipping charges related to the exchange unless Clear Choice made an error with the order. Exchanges will be approved for an item/s of equal value as the original order or if greater than, the customer will be required to pay the difference. No money back will be issued for exchanges.
Product Expiry
We suggest that you verify the expiry date found on the packaging of your product(s). All Clear Choice products have an expiry date printed on them with the exception of the HFS shampoo. We guarantee that the products you received will have a minimum 6 months of shelf life. Should your product expire prior to 6 months from the date of receipt and you did not have a chance to use it, you may contact our customer service department 2 weeks prior to the product expiry to request a free replacement. Instructions on how to return the product to us will be given to you along with a return authorization number. Replacement policy does not apply to detox products such as drinks and capsules. NOTE THAT WE WILL ONLY AUTHORIZE REPLACEMENTS FOR UNOPENED (SEALED) PRODUCTS THAT HAD LESS THAN 6 MONTHS SHELF LIFE ONCE YOU RECEIVED IT. ANY PRODUCTS THAT EXPIRED MORE THAN 6 MONTHS AFTER THE DATE RECEIVED ARE NOT ENTITLED TO AN EXCHANGE. Expired products shouldn't be used as the product's effectiveness might have decreased.
Fraud Control
Due to fraud control, we do not accept or process orders if the card holder's name is different to the name on the order form. If you place an order over $300.00 or if your billing and shipping address do not match additional information will be required by our customer service representatives. We highly recommend that you print this policy sheet for your own reference.